Music Channel Romania online - Television live
The channel's latest videos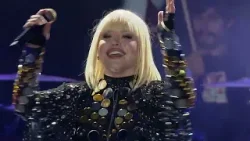 Promo RMA2022
RMA 2022 - BEST DANCE
RMA 2022 - BEST ALBUM
RMA 2022 - BEST NEW ACT
RMA 2022 - BEST MALE
Load more
Music Channel Romania Live Stream
Watch the hottest hits and concerts live on Music Channel Romania! Our TV channel brings the joy of music to your home. Discover top artists and live performances, only on Music Channel Romania - watch live tv now!

Music Channel Romania, also known as MusicChannel or 1Music, is a Romanian music TV channel that opened on 1 November 2010 and is owned by Media House. The company decided to expand into Hungary, opening Music Channel Hungary on 1 January 2010. With this move, Music Channel became the first Romanian TV channel to start offering live streaming over the internet, allowing music fans to watch live broadcasts and events from anywhere.

One of the channel's strengths is hosting the annual Romanian Music Awards, an important event in the Romanian music industry. This ceremony rewards the most popular and appreciated artists and songs of the year. Music Channel has thus become an important platform for promoting Romanian artists and local music.

Music Channel is also known for its partnerships with other music TV channels such as MTV Romania and Kiss TV. These collaborations allow the broadcasting of large-scale music events and offer a wider variety of music content for viewers. Thus, the channel differentiates itself by dividing its broadcasting into the four most prominent music genres: pop, rock, urban and dance.

Music Channel offers a diverse range of programmes, including top shows with the latest hits, interviews with Romanian and international artists, live concerts and music events. It is an ideal platform for music fans who want to keep up with the latest trends and discover new and talented artists.

To meet the needs of its audience, Music Channel Romania also offers a live internet streaming service. Viewers can watch their favourite shows or music events in real time, wherever they are. This brings great flexibility and convenience for music fans, who can always be connected with their favourite channel.

In conclusion, Music Channel Romania is a Romanian music channel that has brought a new dimension to the media industry. With live streaming on the internet and its partnerships with other music TV channels, Music Channel has become an important platform for the promotion of Romanian and international music. With a variety of music programmes and events, this channel offers an unforgettable experience for music lovers across the country.


Music Channel Romania Watch Live Streaming now online