TV Quartz online - Television live
The channel's latest videos
Глава Подольска встретился с жителями Красной горки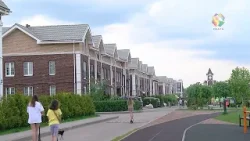 Дмитрий Жариков встретился с жителями и застройщиком ЖК «Каскад-парк»
Купание в неположенном месте вновь обернулось трагедией на Южном
Лицей №5 ждет глобальная реконструкция
В Сынково появилась новая современная игровая зона
Load more
TV Quartz Live Stream
TV Quartz is the main television in Podolsk. We talk about the main events in Podolsk and the Moscow region.
TV Quartz is the latest news, exclusive materials, expert opinions and eyewitness comments.
Podolsk regional television company "Quartz" was founded in 1993. All this time, Podolsk television has been using all its creative potential to show the life of the city of Podolsk and the Podolsk region in all its diversity. It is important for us to be inside the events, participate in them and tell all the most interesting things to our viewers. Over the past years, the rating of the TV company and the size of the viewership have been constantly growing, which indicates the constant interest of viewers in our work. TV company "Quartz" is a network partner of TK TNT.
TV Quartz Watch Live Streaming now online