Top Latino online - Television live
The channel's latest videos
Lo que no sabías de Feid #Feid #Entrevista #Patricialucar
SIN NOMBRE - Entrevista a Susan Green por Patricia Lúcar
Cielo Torres es entrevistada por Patricia Lúcar en Top Latino TV
Temple Sour, grupo de reggae peruano responde todo a Patricia Lúcar de Top Latino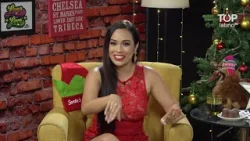 Entrevista a Leslie Shaw por Patricia Lúcar con documental inédito sobre sus inicios en 2009
Load more
Top Latino Live Stream
Top Latino is the leading TV channel to enjoy the best live programming in entertainment, news, sports and more. Watch TV online for free and enjoy the best content from Latin America, don't miss a thing!
In the world of Latin music, Top Latino TV is a premier source of entertainment and information. The TV channel offers live music and entertainment content, with TV shows, concerts, news, videos and more. It is available via cable television and free streaming on the Internet.

With Top Latino TV, Latin music fans can watch their favorite artists perform live, listen to their latest songs and keep up with what's happening in the Latin music world. The channel also offers a weekly list of the top 40 most played songs in the 21 Spanish-speaking countries, including the Latin community in the United States and Spain.

In addition, the TV channel also offers news and interviews with Latin artists, as well as original entertainment content. Viewers can also enjoy a variety of TV shows, concerts, music videos and more.

In short, Top Latino TV is an excellent choice for those who want to keep up with what is happening in the world of Latin music. They can watch TV online for free and have access to live content, news, videos, interviews and more. If you are a fan of Latin music, you can't miss Top Latino TV!


Top Latino Watch Live Streaming now online