Firstlight TV online - Television live

New Zealand
/
Religious
The channel's latest videos
Invitation to join Firstlight for Church at Home - 58 seconds
The Abomination of Desolation - On the Road Nov18 - 02 - Ross Patterson 56 mins
For Such a Time as This - Ross Patterson - On the Road Nov18 - 01 - 44 mins
On The Road - Who Will Rule The World 01 - Ross Patterson 45 mins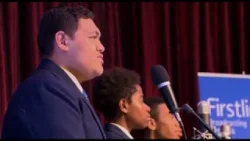 Standing Up for the Right
Load more
Firstlight TV Live Stream
Watch Firstlight TV live stream and experience the best in television entertainment online. Tune in to our channel for a wide variety of captivating programs and enjoy the convenience of watching television online.
In January 2012, a remarkable initiative took shape in New Zealand as a group of passionate volunteers came together with a shared vision. Their goal was to launch a nationwide Christian television channel that would bring the love and message of God to every corner of the country. With unwavering determination, they quickly formed a temporary board and enlisted various volunteer groups to embark on this ambitious endeavor.

The name chosen for this groundbreaking television channel was "Firstlight Broadcasting Network." This name holds a deep significance, as it reflects the fact that New Zealand is among the first countries to witness the radiant light of each new day. Just as the sun rises early in this beautiful nation, so does Firstlight seek to illuminate the lives of its viewers with hope, inspiration, and spiritual guidance.

One of the key features of Firstlight is its live stream, which allows viewers to watch television online. This innovative approach not only ensures that the channel reaches a wider audience but also caters to the modern-day preference for digital content consumption. By providing a seamless online streaming experience, Firstlight can meet the needs of viewers who prefer to watch their favorite shows, sermons, and Christian-themed content at their convenience.

Firstlight Broadcasting Network offers a diverse range of programs that cater to all age groups and interests. From uplifting sermons by renowned preachers to insightful discussions on societal issues from a Christian perspective, there is something for everyone. The channel also features music programs, documentaries, family-friendly movies, and engaging children's shows that instill important values and teachings.

The impact of Firstlight Broadcasting Network has been truly remarkable. It has become a beacon of light in the lives of countless individuals, offering solace, inspiration, and a sense of community. By broadcasting messages of love, compassion, and faith, Firstlight has touched the hearts of many, fostering a deeper connection with God and encouraging viewers to live a life rooted in Christian principles.

The success of Firstlight would not have been possible without the dedication and tireless efforts of its volunteers. These selfless individuals work diligently behind the scenes, ensuring that the channel operates smoothly and reaches its intended audience. Their commitment to spreading the love of God is truly commendable, as they give their time and energy to make a positive difference in the lives of others.

As the Firstlight Broadcasting Network continues to grow and evolve, it remains steadfast in its mission to be a source of hope and inspiration for all of New Zealand. By harnessing the power of technology and embracing the concept of live streaming, the channel has successfully adapted to the changing media landscape. Through its diverse programming and innovative approach, Firstlight has become a trusted platform for viewers seeking spiritual nourishment and a deeper connection with their faith.

In a world where negativity and despair often dominate the airwaves, Firstlight offers a refreshing alternative. It serves as a reminder that love, compassion, and faith can prevail, even in the face of adversity. As the sun rises each morning, so does the light of Firstlight, illuminating the lives of its viewers and reminding them of the boundless love of God.
Firstlight TV Watch Live Streaming now online