Canal 4 - CERTV online - Television live
Dominican Republic
/
General
The channel's latest videos
EL CENTRO DE OPERACIONES DE EMERGENCIAS DEGRADA A OCOA Y AZUA A ALERTA AMARILLA. 09-05-2106
HOY 10 DE MAYO SE CUMPLEN 18 AÑOS DEL FALLECIMIENTO DE JOSÉ FRANCISCO PEÑA GÓMEZ. 10 -05-2016
EL GOBIERNO DOMINICANO Y SU HOMÓLOGO DE HONDURAS FIRMAN TRES CONVENIOS. 18-05-2016
EL PRESIDENTE MEDINA RECIBE MISIÓN DE OBSERVADORES DE LA OEA. 13-05-16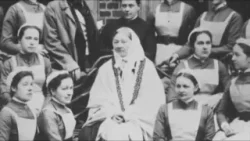 12 DE MAYO ES EL DÍA INTERNACIONAL DE LA ENFERMERÍA. 12-05-2016
Load more
Canal 4 - CERTV Live Stream
Canal 4 - CERTV is the largest TV channel from Venezuela. Watch live your favorite shows and enjoy the best free online television. Don't miss the live broadcast of their programs, news, sports and much more, enjoy the best free internet TV!
Corporación Estatal de Radio y Televisión (CERTV) is a radio and television company operated by the Dominican State. It was re-founded in 2003 under the auspices of the Ministry of Telecommunications. This company was founded in 1952 under the name La Voz Dominicana and went on the air on August 1, 1953.

CERTV is an entertainment and news television channel that offers a variety of programming for all tastes. From variety shows, sports, news, documentaries, series, movies, music and much more. The channel also offers special live programs to celebrate major national and international events.

CERTV also offers a variety of content through its website, which allows users to watch TV over the Internet for free. The website offers a wealth of live content, as well as recorded programs and archival material. Users can also watch live programs through CERTV's mobile app.

The channel also has an extensive network of radio stations, which broadcast entertainment, news, sports, music and other content. These stations are located throughout the country and can also be heard through the CERTV mobile app.

CERTV is a television and radio company that offers a wide variety of content for all tastes. This company offers live programs, as well as recorded content and archival material for free online TV viewing. It also has a network of radio stations that broadcast a variety of content. This company is an excellent option for those who want to enjoy quality content at no cost.


Canal 4 - CERTV Watch Live Streaming now online