Yumurcak Tv online - Television live
The channel's latest videos
Rahat Koltuk 3. Bölüm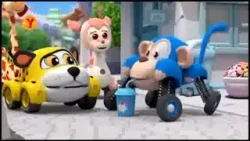 Vroomiz - Bangi'nin Hıçkırığı
Uzun Kulak Ailesi - (9. Bölüm)
Uzun Kulak Ailesi - (10. Bölüm)
Vroomiz - Büyük Atlayış
Load more
Yumurcak Tv Live Stream
Yumurcak Tv is a live broadcast channel where children can have pleasant moments in a world full of fun. With the live tv watch option, children can follow their favorite cartoons, animations and educational programs uninterruptedly. In the colorful world of Yumurcak Tv, children can spend quality time while having fun and learning. Yumurcak TV, which is accessible at any time with its live broadcast feature, allows children to develop their imagination and learn in a fun way.
Yumurcak TV is a children's channel of the Samanyolu Group broadcasting in Turkey. In 2015, the channel's satellite broadcasting was suspended by court order, and it continued to broadcast over the internet until 2016. Yumurcak TV is the first children's channel in Turkey to broadcast unencrypted.

Yumurcak TV was established to provide children with easy access to educational and entertaining content. The channel attracts attention with its programs that aim to contribute to children's development. With content such as educational cartoons, children's songs, fairy tales, science and nature programs, it attracts children's attention and offers them a pleasant learning experience.

One of the most important features of Yumurcak TV is that it broadcasts unencrypted. This makes it possible for everyone to watch the channel easily. Children can watch the channel on their own without the help of their parents and spend time with entertaining content. In addition, the channel broadcasts over the internet, allowing children to access content whenever and wherever they want.

Yumurcak TV's broadcasts for children aim to contribute positively to their development. With its educational content, the channel helps children improve their vocabulary, increase their problem-solving skills and strengthen their social relationships. It also offers content that supports children's imagination and creativity.

Yumurcak TV has its own website and mobile application. Live broadcasts, cartoons, games and many other content can be accessed through these platforms. The channel's social media accounts also aim to interact with children. The channel constantly updates its content and communicates with children, taking into account their wishes and needs.

In conclusion, Yumurcak TV is a children's channel of the Samanyolu Group broadcasting in Turkey. The channel aims to contribute to children's development with its educational and entertaining content and attracts attention with its unencrypted broadcasting.


Yumurcak Tv Watch Live Streaming now online