Sportitalia online - Television live
The channel's latest videos
DYBALA, SCUDETTO E INTER/MILAN: #AMORUSO RISPONDE ⁉️
Highlights GENOA 0-4 INTER, 29^G PRIMAVERA1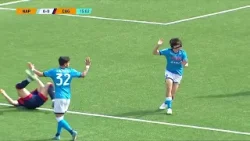 Highlights NAPOLI 1-2 CAGLIARI, 29^G PRIMAVERA1
Highlights LECCE 1-1 JUVENTUS, 29^G PRIMAVERA1
Highlights MILAN 1-4 SAMPDORIA, 29^G PRIMAVERA1
Load more
Sportitalia Live Stream
Watch Sportitalia live and watch free online television to follow all sports events in real time.
Sportitalia is an Italian thematic television channel that has won a special place in the hearts of sports fans. Available nationwide in Italy on digital terrestrial television, this channel offers a wide range of programs dedicated to the most popular sports.

One of Sportitalia's strengths is its ability to broadcast live sporting events. Fans of soccer, basketball, volleyball, tennis, and many other sports can enjoy competitions in real time, without having to wait for summaries or replays. This is greatly appreciated by sportsmen, who wish to experience the excitement of the moment and follow the developments of matches in real time.

In addition, Sportitalia also offers free online television watching through streaming mode. This means that viewers can access the channel's content via the Internet, without necessarily having to be seated in front of the TV set. Thanks to this option, sports fans can follow their favorite competitions wherever they are, whether they are at home, in the office, or traveling.

In addition to broadcasting live sporting events, Sportitalia also offers informative programs that delve into current sports news and events. The channel's experts offer detailed analysis, exclusive interviews, and in-depth commentary on the most important events in the world of sports. These programs are an excellent source of information for fans who want to stay up-to-date on the latest news and performances of their favorite athletes.

Sportitalia also stands out for its variety of sports covered. In addition to traditional sports such as soccer, basketball, and volleyball, the channel also broadcasts wrestling competitions, motor sports, tennis, rugby, American football, judo, and boxing. This wide range of sports allows viewers to always find something interesting to watch, regardless of their preferences.

Sportitalia is the ideal channel for sports fans who want to experience the excitement of live competitions and watch free online television.



Sportitalia Watch Live Streaming now online