AgroBrasil TV online - Television live
The channel's latest videos
PLANTAÇÃO DE GIRASSOL
FESTIVAL INTERNACIONAL DA CARNE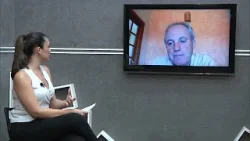 Bate papo sobre IATF
REPRONUTRI 2023
PROVA LAÇO COMPRIDO
Load more
AgroBrasil TV Live Stream
Watch the AgroBrasil TV channel live and free. Follow the latest news and information on Brazilian agribusiness, with exclusive programs and content relevant to the sector. Tune in now and stay on top of everything that's happening in the field.
Discover AgroBrasil TV, the live television channel specializing in agriculture and livestock. Enjoy the best agricultural programming and learn from experts in the field from the comfort of your home. Don't miss out! Watching free internet TV has never been easier with AgroBrasil TV.

AgroBrasil TV is the television channel that stands out for having a program totally focused on agribusiness. With content aimed at ranchers, farmers, businesspeople in the sector and the general public, the channel aims to inform, educate and entertain, promoting the development and growth of the agricultural sector.

One of the main advantages of AgroBrasil TV is its live broadcasting. This means that viewers can enjoy the programs and events in real time, without delays or interruptions. Whether you're interested in learning about the latest agricultural technologies, livestock management techniques or the latest news in the sector, AgroBrasil TV offers you the chance to keep up to date with everything related to agriculture and livestock.

In addition, AgroBrasil TV allows viewers to watch live television for free via the internet. This gives you the flexibility to access the program from anywhere at any time. Whether you're at home, in the office or traveling, all you need is an internet connection to enjoy the best agricultural programming.

AgroBrasil TV's programming includes a wide variety of content, from educational to entertainment programs. Viewers can learn about new cultivation techniques, improve their knowledge of animal husbandry and obtain information on the latest trends in the agricultural sector. In addition, the channel also provides coverage of agricultural events and fairs, giving viewers the opportunity to learn about the latest developments in the sector.

In short, AgroBrasil TV is the perfect television channel for those interested in agriculture and livestock farming. With its specialized programming, live broadcasting and the possibility of watching live television for free over the internet, AgroBrasil TV has become an invaluable tool for all those involved in the agricultural sector. Don't miss the chance to keep up with the latest news, learn from the experts and enjoy the best agricultural programming from the comfort of your home. Tune in to AgroBrasil TV and discover all that this channel has to offer!
AgroBrasil TV Watch Live Streaming now online